Endophthalmitis Care in Baltimore
Also serving Pikesville, Owings Mills, Glen Burnie, & Rosedale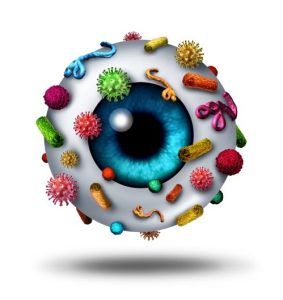 Endophthalmitis is a type of infection of the fluids or tissues inside the eye and is considered an urgent medical concern. These infections tend to happen after eye injuries, eye injections, eye surgery, or major illnesses and could leave you blind without prompt treatment. Contact our ophthalmologist as soon as possible if you experience signs of endophthalmitis.
Elman Retina Group is a highly respected ophthalmology center providing comprehensive care and procedures for retinal diseases, conditions and injuries. Dr. Michael Elman has more than 30 years of experience specializing in retinal concerns and is among the best in his field. He's an internationally recognized leader in clinical research for retinal disease and care. Dr. Sidney Schechet and Dr. David Dao have extensive experience in diagnosing and treating endophthalmitis, and both have done cutting-edge research into improving endophthalmitis outcomes.
What Is Endophthalmitis?
There are two types of endophthalmitis infections. The most common form is exogenous endophthalmitis, in which bacteria, viruses, parasites, or fungi get inside the eye after eye trauma, surgery or injections into the eyeball. Puncture wounds from an accident commonly cause this type of infection, but it's relatively rare for cataract surgery or eye injections to lead to endophthalmitis. Acute endophthalmitis causes symptoms to develop within a few days of the eye injury or procedure, but chronic endophthalmitis happens slowly, delaying signs something is wrong.
Endogenous endophthalmitis is the other form of infection that happens when an infection, such as a blood infection or urinary tract infection, spreads from another part of the body into the eyeball.
Endophthalmitis symptoms include:
Blurred vision
Worsening eye pain after trauma to the eye
Red eye
Swollen or puffy eyelids
Discharge or pus coming from the eye
Vision loss
Most patients will experience blurry eyesight (94.3%) with endophthalmitis, along with eye redness (82.1%) and eye pain (74%). If you experience any of these symptoms after eye surgery, injury or injections, contact Elman Retina Group right away for diagnosis and treatment.
Diagnosing and Treating Endophthalmitis
Our retinal specialists will use several tests to diagnose endophthalmitis. They will examine your eyes, test your vision and ask about any recent eye surgeries or accidents involving the eyes. Sometimes, an ocular ultrasound is necessary to search for foreign objects left inside the eye after an injury.
If the doctor suspects an infection, he may perform a vitreous or aqueous biopsy in the office. These are the fluids found inside the eye, and a tiny needle withdraws a sample and sends the specimen to a lab to test for infection.
Endophthalmitis is typically treated with antibiotic and antifungal medicines injected into the eyeball, but steroids may be needed to reduce inflammation and swelling caused by the infection. In severe cases, vitrectomy surgery to remove the vitreous gel inside the eyeball is necessary to restore eye health and function. The fluid is replaced with a sterile fluid and medicine is injected to treat the infection and inflammation.
Any type of endophthalmitis is serious with a guarded and unpredictable outcome. Close monitoring is always needed with many visits. Patients often need to take several eyedrops and oral medications to treat the infection in addition to the intraocular injections performed by the retina doctor.
Contact Elman Retina Group in Maryland
Endophthalmitis is a serious medical issue, but proper eye care can help prevent these eye infections by avoiding common eye injuries. Wear protective eyewear when working with eye hazards or playing contact sports and contact our eye doctor if you experience an eye injury with worsening pain and vision problems.
Contact Elman Retina Group immediately if you suspect endophthalmitis. Call our Rosedale, Glen Burnie and Pikesville, Maryland, offices at (410) 686-3000.