Gift Ideas for Loved Ones with Low Vision/AMD
Submitted by Elman Retina Group on December 18, 2018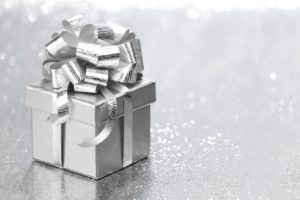 Low vision is a term used to describe significant visual impairment that cannot be corrected or treated with prescription eyewear. Among the most common causes of low vision is age-related macular degeneration (AMD), an eye condition characterized by the deterioration of the central part of the retina, known as the macula. The macula is responsible for focusing central vision in the eye. People with low vision or AMD may have difficulty with everyday tasks, including driving, reading and recognizing faces.
With the holiday season upon us, Elman Retina Group would like to share the following gift ideas for the loved ones in your life who have low vision or AMD. Here are our top picks:
For the Reader
Digital tablet: Research shows that digital tablets can make reading easier for individuals with low vision thanks to contrast, brightness and font size adjustment. With features such as text-to-speech, tablets also make it easier to send emails and text messages. There are many tablets on the market right now, making it easy to find one that fits your budget.
Audiobook subscription: An audiobook subscription is sure to make it easier for your loved one with AMD to enjoy their favorite books, without struggling to read print. There are a number of audiobook subscription services available, some which are free and others that charge a monthly or annual fee.
LED desk lamp: LED desk lamps offer brighter illumination and less electricity than other lamps. They also do not heat up, making it easy for users to move the lamp around without worrying about getting burned. Some LED lamps also come with a built-in magnifier for even more clarity when reading, knitting or performing other close-up tasks.
For the Tech Enthusiast
Amazon Echo: Amazon Echo is a hands-free speaker and the perfect gift for someone with AMD who wishes to maintain their independence. The portable device makes it easy to play music, get the latest news around the world, hear the weather forecast and even turn the lights in your home on and off. Amazon Echo can also connect to other smart devices such as TVs and laptops for easier show and movie watching.
Pen Friend. The Pen Friend is a voice labeling system that lets users record information onto self-adhesive labels. Think of the Pen Friend as a portable note taker that makes it easy for individuals with low vision to label medications, food in the fridge or other items around the house; create shopping lists; or leave audio messages. Learn more about the PenFriend here.
For the One On the Go
Portable color identification device: People with low vision and AMD often have difficulty distinguishing colors, making it a challenge to match socks in the morning, or shop for food or clothes. Portable color identification devices identify and read out loud hundreds of colors. Smartphone apps for color identification are also available.
Portable electronic magnifier: Unlike models of years past, today's electronic magnifiers are portable, discreet and lightweight, making it easy to read small print on menus, receipts or labels at the grocery store.
To discuss your visual concerns with a board-certified retina specialist, schedule a consultation with Dr. Michael J. Elman. With over 30 years of experience, Dr. Elman is the trusted choice for quality care and treatment in Baltimore and the surrounding area. Contact our office by calling (410) 686-3000 or emailing us today.